Independent Living
Living in an Independent Living community means you'll have all the freedom and independence you want, with the support and care you need. We provide a lifestyle that promotes physical, mental, social, intellectual and spiritual well-being. Our full time Activities Coordinator plans activities, parties, classes, lectures and excursions that are entertaining and engaging. We treat everyone as a respected member of our family. As you learn more about us, you'll realize that all our communities give you, or a loved one, 24-hour staff on duty, and companionship.
Assisted Living
The Assisted Living lifestyle gives you all the freedom and independence you expect, with personalized support when you need it. We work in partnership with our residents and their families to determine individual needs and goals — then we help you create your ideal Assisted Living lifestyle, while enjoying the many activities and events that we offer.
Memory Care
When you visit our Memory Care Neighborhood you'll find a special environment where our residents are free to explore, touch, and choose their own activities. For example, the Life Skill Stations recreate familiar situations from the past — like a baby nursery, a garden, an office, or a hobby workbench that spark memories, interest and interaction. Residents become socially engaged in these familiar situations, which can sustain their memories, as well as provide them with cognitive exercises and physical movement. Along with our outdoor gardens and screened porch area, the entire Memory Care Neighborhood provides a meaningful way for residents to engage in their surroundings.
Respite Care
Caring for a loved one at home often requires trying to balance family responsibilities, work outside the home and support for an older relative. That's why we offer the following programs. Our Day Program creates a positive experience for everyone involved and reduces the stress of family caregiving. Studies with seniors show that isolation and loneliness decrease when they're in an active day program. Our meaningful activities, hot meals, snacks, medication management, resting accommodations, and flexible hours make this an affordable alternative for family caregivers, while they are at work, or when they just need a well-deserved break. It's a great way to prevent caregiver burnout.
Memory Care &
Dementia
Our private, exit-controlled Memory Care Neighborhood provides all our services and amenities with upgrades and special features to meet the individual needs of residents with memory challenges, including Alzheimer's or dementia. For example, each apartment is equipped with state of the art motion sensors which can send an alert to caregivers who can respond as needed. Special ambient lighting is also activated in the bathroom area which provides a guiding light at night.
We focus on activities that enhance general health, personal relationships, and communication skills. We concentrate on familiar abilities to avoid frustration at not being able to accomplish an activity. We laugh, smile, and make eye contact. We give lots of positive encouragement. If a resident becomes anxious or upset, we take a break. Light exercise programs also help residents maintain muscles and flexibility.
Memory Care
Activities
Our Memory Care program blends cutting edge technology with the most current research to create activities specifically designed for residents with Alzheimer's and dementia. Residents are involved in daily therapeutic and recreational activities such as music therapy, pet therapy and sensory stimulation to encourage independence and preserve dignity. Each activity is designed to create a positive experience for our dementia residents. Participation in activities enhances feelings of self-worth, general health, personal relationships, and communication skills. 
Light exercise programs can help maintain muscles and flexibility. An engaged resident will experience decreased pacing and restlessness and reduced nervous tension. We concentrate on familiar abilities to avoid frustration or agitation at not being able to accomplish an activity. The connecting corridors and garden paths allow residents to wander safely. The courtyard offers fresh air, sunshine, and a safe and secure place for outdoor activities. We encourage family members to visit often, and to participate in activities and programs. We believe you are an important part of your loved one's care team.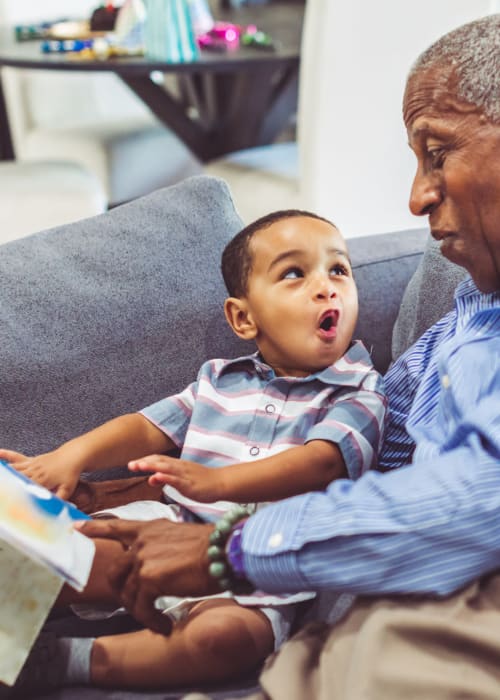 Respite
Short-term Stays
The perfect situation for someone recuperating from a hospital stay – who isn't ready to return home – is a short-term stay (Respite Stay). You can experience all the amenities of our community for a few days, a week, or longer. That includes meals, activities, laundry services, and assistance with personal care. A Respite Stay is also a great way to test drive our community to determine if it's the right fit for you or a loved one.